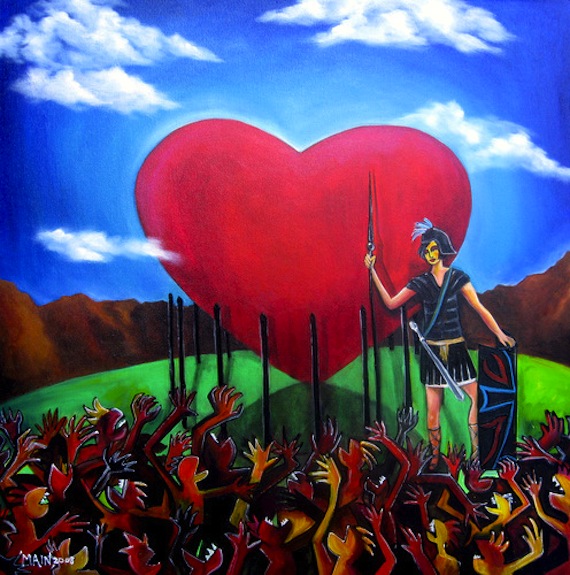 One of my favorite verses in Scripture (I have many) is Proverbs 4:23.  I'll quote it first out of the NIV because that is how I learned it originally:
Above all else, guard your heart,
for it is the wellspring of life.
[Proverbs 4:23 NIV-1984]
I also like the ESV translation which reads:
Keep your heart with all vigilance,
for from it flow the springs of life.
[Proverbs 4:23 ESV]
Above everything, we must guard our hearts – we must protect our heart with vigilance. I think this is particularly true of volunteers in children's ministry.  Let me explain.
There is nothing easy about volunteering in children's ministry.  As volunteers, we give of our time on a weekly basis to sit in a room full of kids, trying our hardest to impart some spiritual truth to them all the time battling the influences around them in the world they live in the other 167 hours a week.  I don't say any of this to whine or complain.  I also think children's ministry is a joy and we are blessed that God allows us to serve in this capacity.  But, it is hard and over the long haul, it does take a toll.  I have seen enough people follow the patter of passion…excitement…contentment…burnout to know that guarding our hearts is important to our long term survival, and ultimately fruitfulness, in ministry.
So, as volunteers, how do we guard our hearts.  Here are some practical ideas.
1. Go to Big Church
That's what we call it in our church – not because it is more important, but because the people there tend to be bigger.  Don't isolate yourself back in the back hallway or basement of your church.  Your volunteering is important, but we minister out of overflow, and "big church" is part of how you get filled up.
2. Read Your Bible and Pray
These are important enough to be their own categories, but the point here is very similar to the first.  If you want to minister to kids, and you want to be effective over the long haul, you have to tend first to your own spiritual journey.  God must be first in your life.  Do not allow ministry to become an idol that sucks up all your time and takes you away from God.
3. Tend to Your Family
After God, your spouse and your own kids are your second and third most important priorities.  If your family is feeling neglected because of your ministry and serving, two things will happen.  One, your family will begin to slowly shatter from the inside out.  Two, you will add undue stress to your life trying to deal with the disappointment of your family along with the stresses of ministry.
4. Get Some Support
If you are a children's pastor, you know that benefit of being in relationships with other children's pastors.  That why children's pastors have regional networking meeting, conferences, and site like CMConnect.org to network with other children's pastors.  Unfortunately, there is very little like that which exists for children's ministry volunteers.  That's why we created Kidmin1124 and associated resources like the Kidmin1124 Facebook Page.  If you are a volunteer in children's ministry you need to learn from and interact with other people who do what you do.  To paraphrase Proverbs 27:17,
As iron sharpens iron, so one kidmin volunteer sharpens another!
5. Take a Break
We serve a really really big God.  He can handle it if you take a week or two (or even a month if you need it off).  Many volunteers have a regular job out in the non-church world.  Even those jobs (whose importance pales in comparison to the work of the church) recognize that their people need time away to rejuvenate.  When you insist on never taking time away, it is a form of pride that says "only I can get this done right."  Trust God, and take a vacation.
6. Don't Take it Personally
Our work in children's ministry is not about us.  It's not even about the kids.  It's about God.  We should, as my friend Jared Massey is prone to say, strive for excellence in all we do.  But, when it isn't enough, or the kids aren't reacting the way you had hoped, or parents don't seem to be doing their part, don't take it personally.  We should learn from our mistakes and failures, but dwelling on them is a way of taking the short ramp to ineffectiveness and burnout.
I often tell people when they ask about my work in children's ministry that I have never done anything in my life which is so tiring and at the same time so rejuvenating.  Yes, children's ministry is hard, but if you guard your heart and rely on the power of God instead of your own strength, it is also the most rewarding thing you will ever do.